A quick reminder
Just a quick reminder Just a quick reminder the trails are closed until they dry up and are ready for traffic. We all want to ride, please be patient and stay off the trails until they are open. We need to respect the trails to keep the trails!! Thanks in advance for your cooperation.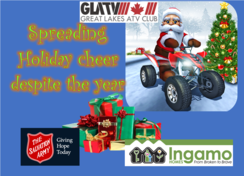 Spreading Holiday Cheer Despite The Year
Spreading Holiday Cheer Despite The Year Although we were not able to host our annual Christmas in the Woods ride to collect toys to children in need, the club supported by donating to the Brant Salvation Army towards their Christmas Hamper program and the Ingamo Homes Womans shelter in Woodstock to buy toys. The GLATV Executives and Board of Directors would like to wish you all a Happy and Healthy Holiday season. Merry Christmas and we'll see you on the trails in 2021!

Welcome to Our Updated Website
We have updated our website. While we have fallen behind in the past, we will try our best to keep you informed again via this website. The Trail Status (Open / Closed) can now be found on the front opening page for easy viewing. GREEN means the trails are open, RED means the trails are closed. Please check our news and events sections for updates of what has happened, or is about to. If you have anything to share on the website, please send us an email.