Welcome back to another year of trail riding fun at Great Lakes ATV club, 2023 edition.
As most of you know we have faced many challenges over the years keeping ATVing available in southern Ontario. Sometimes it's the best of times and sometimes it's the worst of times, but we do our very best to keep trails available near your doorstep.
Update on Cathcart
Currently no solution in place yet. The current climate of the local government isn't ideal for our sport, and we are unsure if when or of the tide will shift. We do keep the pressure up, at this point feel like the ball and basket are all in their court and we hope to find favor with a friendly face soon.
Update on Innerkip
Planned to open May 20th with restrictions for part of the 2023 season.
Due to the dumping of snow we received late in the winter, our landowner suffered great losses at his property. Both main barns had significant damage done to them and require rebuilding. The main trail side of the property is considered an active work site and therefore ATVs and public access are not welcome.
We have been given the green light to open the trails on the opposite side of the road plus allowed to continue to park in our parking lot. A gate has been put in to block access to the main trails from the parking lot and cameras are active.
We plead with you, please do not ignore the signs! Please only use the trails across the road.
Failure to comply puts the future of our trails in jeopardy.
The landowner is very serious about this, if you are found off limits you will be asked to leave, and will be subject to trespassing charges.
With any luck the construction will be done by middle of July and we can go back to normal scheduled programming.
We would like to thank you ahead of time for understanding and playing within the rules. Appreciate your time, efforts, and dedication to our club, we hope to see you out there on the trails!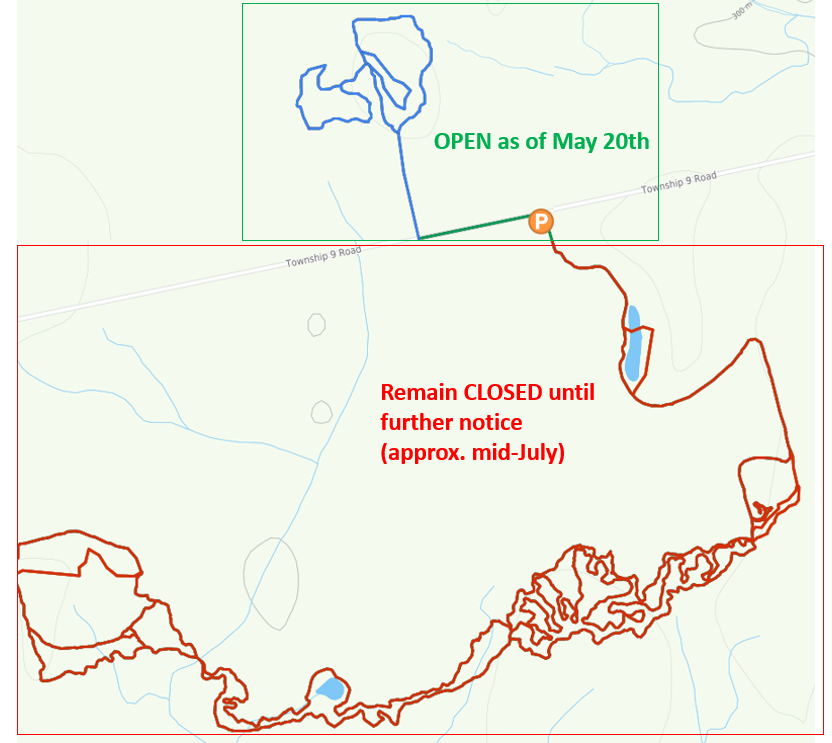 Innerkip Trail is
OPEN with Restrictions